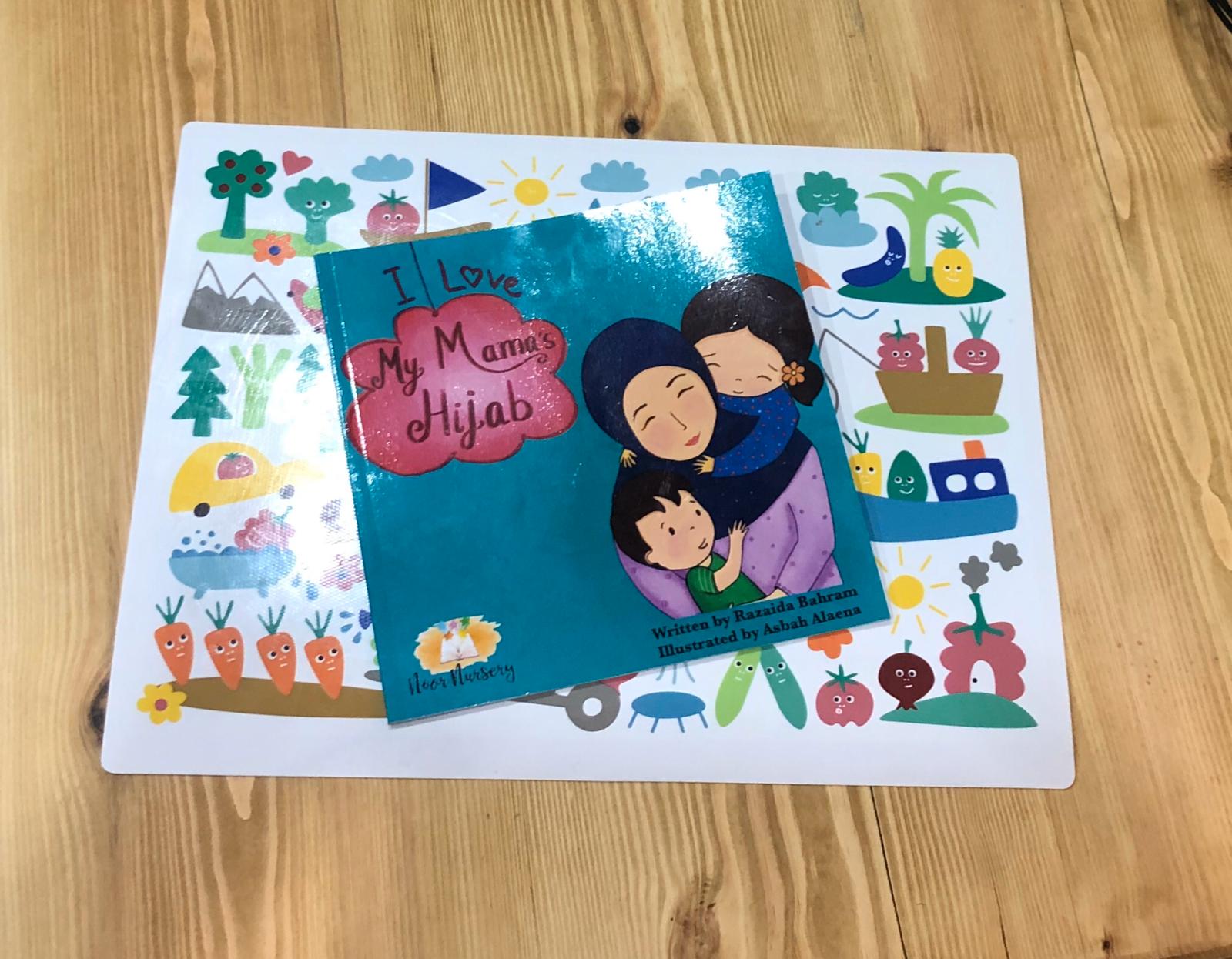 Penned down in subtle rhymes by Razaida Bahram, with bright, colourful and detailed illustrations by Asbah Alaena, I Love My Mama's Hijab is a nostalgic trip down the memory lane for parents, and the first stepping stone towards the beautiful concept of hijab for the little ones.
This book, published by Noor Nursery, describes a little girl in awe of her mama's hijab. She is fascinated by her mama's assortment of hijabs, and keenly observes all the places her mama wears them to. Her cute antics will unquestionably remind you of yourself when you were a little kid, leaving your heart full.
The font is unconventional and fun. It is sure to grab your kids' eyes, and very comfortable for them to read. The language is simple and easy for the young ones' comprehension. However, what stole my attention were the illustrations! There is a lot going on in every picture, and they all leave room for further discussions, fun activities and additional storytelling with the kids.
We want our kids to grow up to be confident Muslims brimming with qualities like kindness and piety. Children start to develop their likes, dislikes and behaviour from a very young age, so it is imperative that they are familiarised with good manners from the beginning. This book does just that. If the words explicitly warm up the audience to hijab, then the illustrations speak much more. They are racially inclusive, and they provide elaborate settings for the parents to teach Islamic etiquette to their little ones. For instance, on one of the pages, we can see the mama in hijab with her kids at a public place, and they all greet an aged lady cheerfully.
This is what makes I Love My Mama's Hijab unique. Despite hijab being a girls' area predominantly, this story contains elements that cater to boys as well. It's wonderful because it is equally important that they also learn the significance of hijab in Islam, and grow up embracing and respecting it, and later in life, encourage their sisters, wives and daughters to wear it too.
Above all, what makes this book extra special is a heartfelt little surprise note for the mothers at the end, and I can't stress enough how much every mother needs to hear those words!
If you are a parent who wishes to raise their kids to be righteous Muslims, then I Love My Mama's Hijab could be one of your tools to introduce your young ones to the Islamic way of life, with a special focus on hijab! And, by the end of this book, while your little girl will be eager to follow her mama's footsteps and adorn herself with hijab, her brother will be equally excited to help her with it!
"I pray our books are a part of the tarbiyyah you are raising your children with and help guide the children of our Ummah to be true muslimeen and continue to strive in the path of Allah." – Razaida Bahram
The book can be ordered via:
Email: noornurserybooks@gmail.com
Instagram page here
Contact us HERE for collaborations.
Baaraka Allah Feekum.
Sr. ZSA
©Islamic Reflections Blog